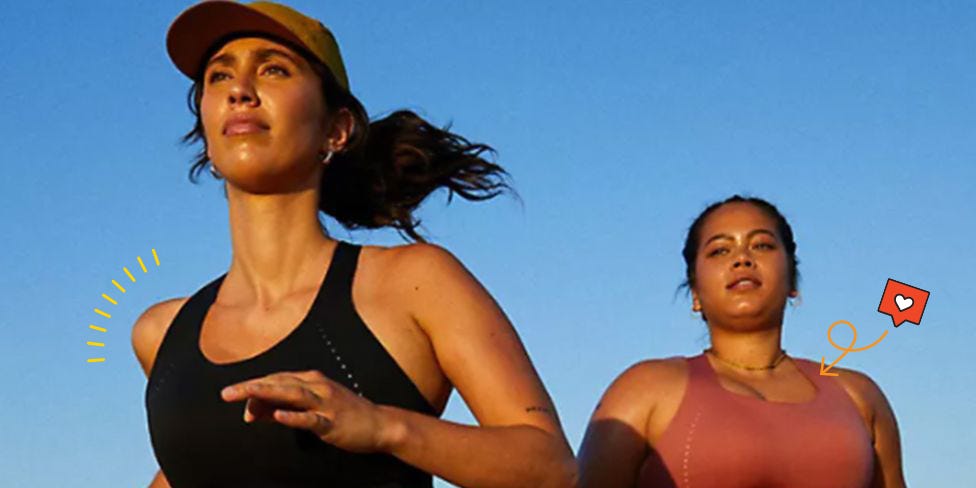 People often say that when it comes to running, all you need is a pair of good sneakers and a place to run. But as an avid runner and woman with a D (sometimes DD) cup, I know there's another essential: a good sports bra. When I'm clocking miles on the road, the track, or the trail, wearing the right bra plays a pretty important role in my training. I've been in far too many situations where I've felt like I could go the extra mile, but my sports bra—whether because of excessive pressure, chafing around the bottom band, or just way too much breast bounce—said no way.
Yes, we all know an ill-fitting bra can be a real run wrecker, but for those of us who are extra-blessed in the chest, finding a stylish athletic supporter that doesn't look like it came out of our grandmother's drawer can be a real challenge. In fact, it can be downright frustrating.
That's where lululemon's new AirSupport Bra ($98; lululemon.com), which caters to cups C-DDD, comes into play. I have turned to lululemon bras in the past (shout out to the Enlight Bra and, if you're a true brand fan, the Ta Ta Tamer) to deliver that magical support without the squish for everything from my quick 5k runs to full-on marathons, so I had high hopes for the AirSupport. Oh, did it deliver.
From the moment I shimmied into the racerback style, maneuvered the padded, adjustable straps to a comfortable position, and secured the triple hook-and-eye closure, I was impressed. Not only is the full-coverage fit spot-on—no gapping, pulling, pinching, spilling, digging, or squeezing—but the super-soft, brushed fabric felt amazing against my skin. And, when I looked in the mirror, my 36Ds were definitely happy with the silhouette staring back at them.
The AirSupport Bra is arguably one of the brand's most supportive and comfortable bras, but let me break down exactly why this one is my new fave.

There's Sooo Much Support
For starters, the AirSupport isn't a straight compression style. It supports each breast individually, nixing the dreaded uni-boob. Behind the scenes, it uses a hidden honeycomb pattern that's outfitted with the brand's new injectable foam padding. This molds to your breasts and creates a natural shape and lift. It also provides high-impact support that banishes bounce. Amazingly, it does this without making my breasts feel like they've been stuffed into a sausage casing. Now, you might think all that technology means it takes a hit to the actual style, but no. Seriously, if I were a runner who liked to go shirtless, I would have absolutely no problem strutting around showing off this one.
The Fit Is Actually Breathable
The AirSupport Bra quickly wicks away sweat. This means you never feel weighed down by excess moisture. (The heavy sweater in me thanks you for this lululemon!) The mesh lining that runs underneath the bottom of the breasts and along the sides of the band also makes it super-breathable. Clearly, the seven years of research and testing lululemon did to develop the AirSupport Bra has paid off.
It's Got the ~Perfect~ Padding Situation
Sports bras with padding typically are a no-no for me, simply because, well, let's face it, they tend to look obscene if you're well-endowed. But, the lift the AirSupport Bra offers is more subtle and lightweight than traditional padding. Plus, the padding is part of the design and not removable, so you don't have to worry about inserts shifting, rotating, or slipping out of the bra during stints in the washer or dryer.
No Struggle, No Problem
While having a bra that feels good and supportive is important, so is being able to get the darn thing off when you are soaked in sweat. Luckily, with this one, there is no writhing and wriggling involved. (That alone is almost enough to make it a go-to!) You simply unhook the back, and you are free from your workout wardrobe.
To be honest, the AirSupport Bra ticks off all of the boxes for me: It's tough enough to stand up to super-intense workouts so I feel secure when logging miles; it has a customized, dialed-in fit that allows the bra to move with me rather than fighting against me on every stride; and it's so comfy and cute that I actually enjoy wearing it. I didn't even experience any tension headaches, which for me, often accompany racerback style bras. It has definitely earned a spot in my sports bra drawer, which is a very big deal for picky runners like me.
Click HERE to learn more about the AirSupport
This content is created and maintained by a third party, and imported onto this page to help users provide their email addresses. You may be able to find more information about this and similar content at piano.io