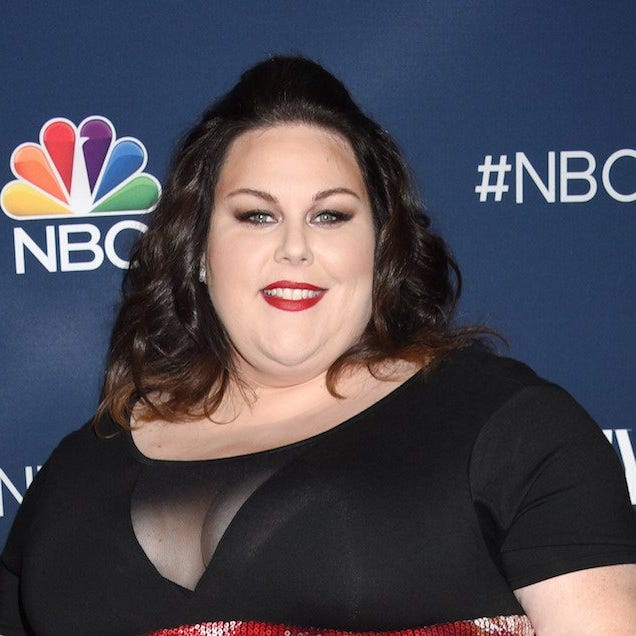 In case you haven't seen the new cry-your-eyes-out-and-love-it show, This Is Us, actress Chrissy Metz plays Kate Pearson, a woman struggling with her weight. In a recent interview, she says she's not all that different from her character.
Chrissy tells People that her weight "was always something I was cognizant of. I've had pictures of when I was 3 and 4 years old, and I've always been chubby."
The actress says scenes that show her onscreen mother, played by Mandy Moore, who struggles to talk about weight with her character's younger self, really resonate.
"I remember being at Weight Watchers at, like, 11 years old, and my mom just trying to figure it out for me," she says. "It's one of those things where it's heartbreaking because, as a parent, you want your child to have the best life possible and you want them to be protected and in this little bubble where everybody finds them to be beautiful and perfect and their lives to be amazing. But that's not always the case.
Chrissy says she sometimes resorted to unhealthy eating habits as a child in an attempt to lose weight. "I would not eat," she says. "And then of course I would get so hungry I would binge… and it was difficult because my parents were like, 'I don't understand, if you're not really eating, why are you gaining weight?' I would be at one of my good friend's house and her mom would literally make us a tray of brownies and split it down the middle, and we would go to town."
Chrissy says her life is so similar to her character's that she agreed to lose weight as part of her contract. "In our contract, it did state that that would be a part of it, to lose the weight in the trajectory of the character as she comes to find herself," she told TVLine. "That was a win-win for me, because it's one thing to try to do it on your own. But as human beings, it's an ego thing: We're more likely to do something for someone else."
Her new job also came with the caveat that she would gradually improve her health, which was a "different kind of motivation, so I was excited about it," she says.
Chrissy tells TVLine she expects some backlash from fans due to her future weight loss, but she says it's ultimately up to her. "I just have to be very clear," she says. "Whether or not I lose weight or stay the same, it's purely a choice of mine for health. Not because I think that plus size, curvy, voluptuous, big bodies aren't attractive—because I think they're awesome and sexy."
Chrissy says she wants it to be known that she's not "selling out the big girls." "I don't do that," she added. "That's not me."