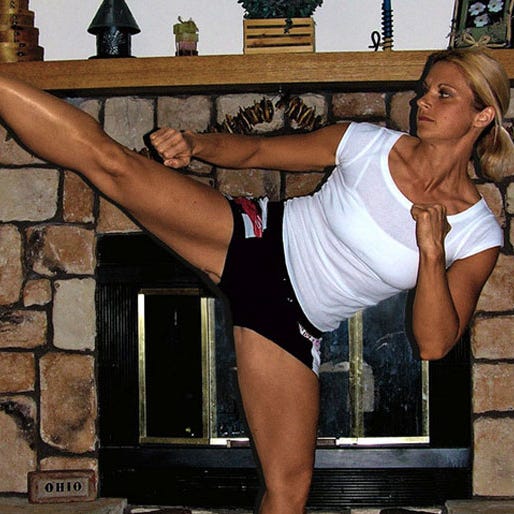 Vital Stats
Name Jenny Leighty
Home West Salem, OH
Age 35
Height 5'6"
Job Certified Tae Bo instructor
Weight before 195
Weight after 135

The Gain
As a high-school cheerleader, Leighty never had to worry about staying slim. But after college, she got an IT job and started spending 8 hours a day at a desk. "After dinner, my husband and I parked ourselves in front of the TV and didn't move until bedtime," Leighty says. Eight years and two kids later, she hit 195 pounds.

The Change
One morning when her second son, Chase, was 6 months old, Leighty found herself exhausted. "I'd only been awake for an hour, and I was lying on the couch wishing I could go back to bed," she says. "That's when I realized that I had to do something."

The Life
Leighty began to change her eating habits by measuring out her portions and keeping a food diary. She started choosing chicken over red meat and added whole grains and fresh produce to every meal. Inspired by a cousin who did Tae Bo, a workout combining martial arts, dance, and boxing, Leighty bought several videos. The first 30-minute tape was a struggle, so she broke it into smaller segments. "I did 15 minutes, took a 10-minute break, and then finished the workout," she says. Soon Leighty was loving Tae Bo so much that she started teaching it.

The Reward
Leighty dropped 10 pounds in the first month: "I was shocked when I realized I actually had cheekbones!" After 6 months and a 40-pound loss, Leighty treated herself to a weight bench and a set of dumbbells. That strength training helped her lose another 20 pounds. "My kids don't recognize me in old photos," she says.

Jenny's Tips

Get smart. "Read up on the basics of healthy eating — it makes reaching your goals easier."

It's okay to stumble. "Slipping up is really a sign that you're striving toward change."

Have a game plan. "Keep low-fat dinners in the freezer for days you know you'll be busy."


Are you a weight loss winner? Tell us your story and you could be featured in the magazine!
Get inspired! Read more weight loss success stories.