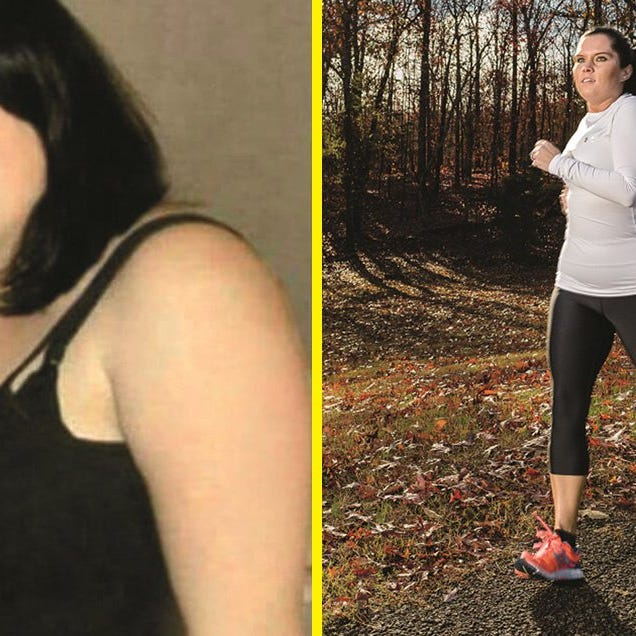 Before: 265
After: 125
Nichole McCall's weight problems began in adolescence, with overindulgence in her mom's Southern cooking. By the time she reached her late teens—and 165 pounds—her eating was more about her emotions than her taste buds. She used food to cope with grief when her father died, and to deaden the pain she felt when her husband (whom she had married at 20) criticized her.
The Change
It wasn't until she divorced, met her second husband, and was pregnant with her second child that she mustered the strength to change. Topping out at 265 pounds, she went into early labor, undergoing an emergency C-section. That's when a C-section related infection nearly killed her. "I was afraid I'd never see my sweet boys grow into amazing men."
The Food
Nichole's first step was to log her calories on the app SparkPeople. She was shocked to see that her daily calorie totals were around 3,000 calories. At that point, she cut out sugary drinks, fried foods, and restaurant fare and began cooking. Most days, Nichole would have eggs for breakfast, Lean Cuisines for lunch, and salads with chicken for dinner.
The Workouts
A month into eating healthier, Nichole started exercising nearly every day, alternating between short walks outside (about a half mile) and Wii Fit workouts. By December, she began running up to five miles.
When Nichole plateaued at 170 pounds, she decided to ditch the scale because it was too discouraging. She began strength training (doing mostly squats, crunches, and leg lifts) with five-pound weights. She started torching calories and began to see some definition in her arms and legs. (Get the secret to banishing belly bulge from WH readers who've done it with Take It All Off! Keep It All Off!)
Sticking With It
While she was shopping for summer clothes, about a year after setting out to lose weight, Nichole was amazed that she fit into size 12 jeans (down from a 22). At that point, she weighed in at 165 pounds. That progress drove her to set a specific goal of 140 pounds. To keep up her healthy habits, she created a motivational Facebook page, which helped her reach her goal by December. At that point, she decided to try to lose another 15 pounds.
Check out these moves that can help you burn calories fast!
​
​
The Reward
Two years after deciding to get in shape, Nichole hit 116 pounds. However, she felt too thin and decided to up her weight training to 100 squats and 50 sit-ups. By October, Nichole reached 125 pounds. "I can even outrun my 7- and 11-year-old boys!" she says.