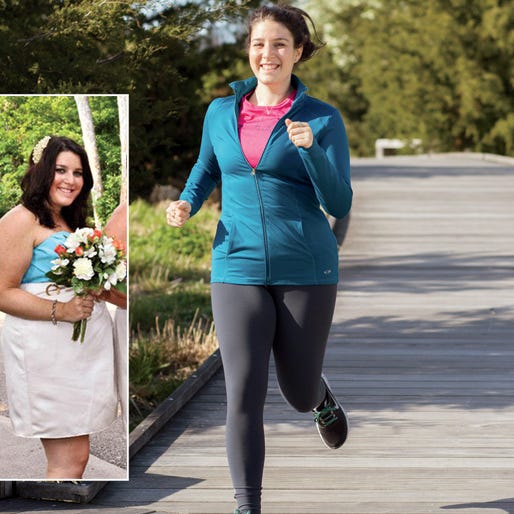 Name: Alexandra Shipper
Age: 28
Hometown: New York, New York
Before Weight: 200
After Weight: 145
A lifelong athlete, Alexandra always worked out three times a week—but it wasn't enough to make up for her oversize eating habits. "I usually ate pretty healthy, but I also ate a lot," says the fashion designer in Take It All Off! Keep It All Off!, a time-tested playbook packed with stories and success secrets from Women's Health readers who dropped 20, 50, even 100 pounds!
A year after she graduated college, Alexandra, who is 5 feet 5 inches, hit 200 pounds.
Wake-Up Call: "I saw bridesmaid pics from my best friend's wedding," says Alexandra. "I couldn't believe I had gotten to that point."
Success Secrets: Alexandra usually shied away from group fitness classes, but she finally got up the guts in 2012 to sign up for a kettlebell class—and was immediately hooked.
(Get slim, get sexy, and stay that way with Take It All Off! Keep It All Off! from Women's Health. Discover the success secrets of 30+ women who've done it!)
She started using a calorie-counting guide to shrink her portions and nixed packaged foods, dropping 30 pounds in 6 months. Her diet soon included staples like egg whites, fish, homemade green juices, and healthy fats like avocado.
Later, in 2012, Alexandra started taking SoulCycle and bootcamp classes. "Pay for fitness classes in advance," she advices. "You won't skip them."
By April 2013, she had run her first marathon, and in 2016, she completed a half ironman. "The way I feel without processed food is extraordinary," she says, citing clearer skin, fewer headaches, and a newfound sense of confidence to match the clothes she designs.
"Life is just better," she says. "I don't have to settle for just any outfit that fits my body."
For more inspiring weight-loss stories from women just like you, check out our new book Take It All Off! Keep It All Off! It isn't a diet—it's a lifestyle makeover that provides you with all the nutrition and fitness tools you need to keep the weight off for the long haul!