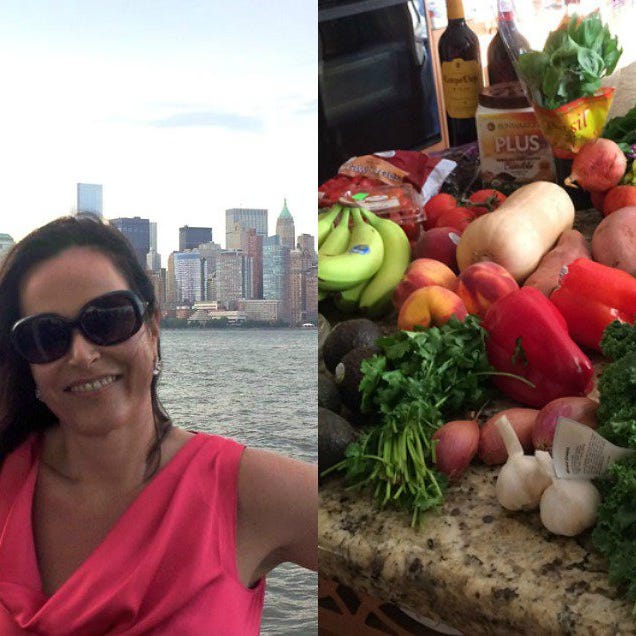 As food trends go these days, going vegan is about as cool as you can get. Not only does eating a diet of just plants promise to lower your cholesterol and make your skin look positively glow-y, but its devotees carry a certain aura of righteousness, as if salvation can be found in a Tupperware of quinoa. So when my editor challenged me to go vegan for a week, I wanted to give it a try. The only problem is that once you get past the "I got this!" satisfaction of your $15 hemp brunch burger, no one tells you how hard the plant life really is.
I've been a health and science reporter long enough to know that low-carb, high protein diets have become the gold standard of many weight-loss approaches (think: the Atkins and Paleo diets). I loved frying up all those meaty staples of clean eating, such as nitrate-free bacon and grass-fed beef. Still, I couldn't drop the extra weight I'd gained while recovering from knee surgery last spring. (Speed up your progress towards your weight-loss goals with Women's Health's Look Better Naked DVD.)
When I did a quick search online to see if there was any real science to back up vegan health claims, what I discovered shocked me: In a comparison of diets from 12 randomized controlled studies involving more than 1,100 subjects, Harvard researchers found that vegans lost the most weight of all. Vegan researcher Gabrielle Turner-McGrievy, PhD, from the Arnold School of Public Health at the University of South Carolina recently came to the same conclusion in her own study: Vegan eaters lost on average about 16 pounds over six months. And here's the best part: They didn't count calories.
Turner-McGrievy attributes their success to two main reasons: Not eating all that saturated fat from cheese and meat, and eating fiber-rich plants instead. "They tend to be lower in calories so from a weight-loss perspective, that's a good strategy to feel fuller on fewer calories," she says. Never mind all the other evidence that vegan diets improve heart health and lower the risk of metabolic syndrome, according to a 2014 study. Recent research also shows that a vegan diet could reduce your risk of many kinds of cancer.
So I started shopping for chickpeas.
'I Quickly Realized Planning Ahead Is Key'
The idea of eating only plants put me in a slight panic because in mainstream America, there's really very little to eat. Although most restaurants now offer a token vegetarian dish, it's rarely vegan—meaning it doesn't contain dairy, meat, poultry, eggs, fish and even honey, if you wanted to get technical about it. (You learn to love Chipotle and the Whole Foods salad bar, where you can find enough ingredients to still make a $17 salad!) Unfortunately, you can't just live off truffle fries and pasta sautéed with olive oil—or the delicious ever-expanding line of grocery store processed foods, such as vegan pizzas and mock meats. (Hello "Not Dogs"!) A friend who eats a modified vegan diet gave me this advice: "Make sure every meal has a grain, protein, veggies and a sauce," she said. "I'm serious. Plan your sauce."
You May Want To Start Stashing Quinoa In Your Purse
You end up cooking a lot and yes, carrying around containers of quinoa—even to people's parties… and on planes!—but you end up saving money on takeout once you stock up on the basics. It probably would have been a good idea to research an actual vegan meal plan, but I found enough delicious recipes online to find a rhythm of basing a day's meals on protein powder, nuts, beans or lentils, soy and all kinds of squash and sweet potatoes. It was fun to experiment with different combos of these ingredients. I made morning smoothies with fruit, swiss chard, cashew butter and chia seeds. My favorite meal quickly became quinoa with sautéed greens, roasted carrots and chickpeas with homemade pesto (no parmesan). Other go-to meals were veggie sushi rolls and roasted veggies drizzled with tahini sauce. And although I tried to stay away from processed food, I found it helpful to keep a box of frozen veggie burgers on hand for those times when you're famished.
Here are some clever ways to jazz up your plain old storebought hummus:
​ ​
After petering out during workouts from a lack of protein, I quickly got over my fear of grains from years of low-carb eating. I learned to love brown rice again. I also learned to be cautious of all those wonderful vegan desserts (that coconut Toffuti frosting cupcake is still a calorie bomb), although I highly recommend Hemp Love's line of chocolate bars … 50 calories' worth of candied hemp and mint is super satisfying.
The Million Dollar Question: Does Going Vegan Help You Lose Weight?
I was pretty surprised at how different I felt after just one week of a plant-based diet. I actually lost four pounds. (You will pee a lot those first few days to get rid of water weight.) I had a lot more energy and slept better. And my skin looked clearer and more radiant.
Going vegan for a week also changed my relationship with food somewhat. You rarely get too full on a plant-based diet, so I enjoyed not feeling stuffed after meals. I also appreciated my food more. You really pay attention to an order of sumptuous garlic-sautéed spinach when it's not a side dish to something else. Another thing: I expected to miss In 'N Out burgers, but I'm surprised how much I missed "healthy" foods like salmon or Greek salad with briny feta. Even a boring veggie omelet suddenly sounds decadent.
Turner-McGrievy recommends going vegan for at least three weeks to notice a real difference. (Although this recent study shows that a week is all you need to improve the biomarkers used to predict future risks for cardiovascular disease.) "Three weeks gives people time for their taste buds to adjust and see some weight loss," she says. As for nutrition, research shows vegans win here, too. In one large British study, vegans had the highest intake of polyunsaturated fatty acids, dietary fiber, vitamins C and E, folate, magnesium and iron. However, you can only get B-12 from animal products, so Turner-McGrievy suggests taking a supplement or multivitamin containing B-12.
I think I'll keep it up to drop a little more weight. But I'm not sure I want to go vegan forever. It's hard to ignore the long-term health benefits, which is why I like this recommendation from vegan blogger Kristy Turner, author of the Keepin' It Kind blog and author of But I Could Never Go Vegan! She suggests finding a balance, such as going vegan most of the time but indulging the omnivore in you on the weekends or one day a week. "If you throw yourself into it 100 percent and are super strict, it's going to be hard to keep up," she says.
A week of hummus and hemp chocolate every so often doesn't sound so bad.