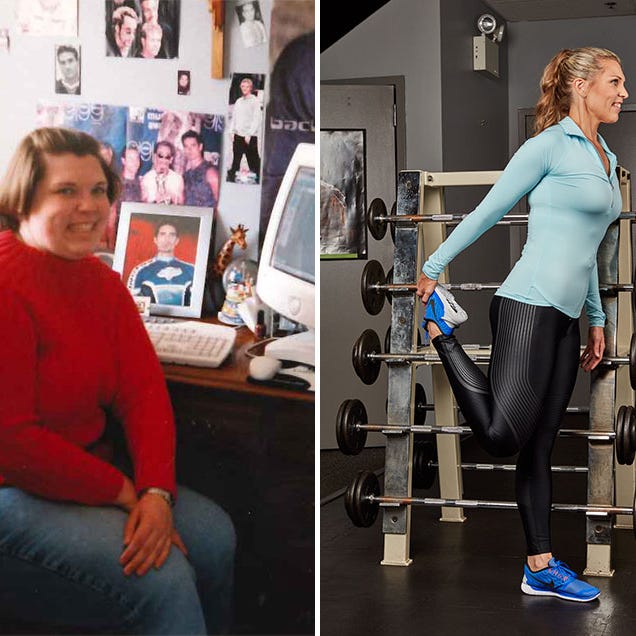 Before: 220 lbs
After: 145 lbs
The first time someone called Sarah Hancock "fat," she was 5. By middle school, she felt she was destined to be heavy. Both of her parents were overweight, and their house was always stocked with tempting carbs.
The Change
After her freshman year in college, Sarah hit 275 pounds and started a pattern of yo-yo dieting that resulted in her losing and regaining 75 pounds—twice. Stuck at 220 after her daughter was born in August 2013, Sarah was desperately Googling information about gastric-bypass surgery when she came across inspiration: a friend who posted her transformation using a home workout. So Sarah began seeking out a similar program to get, and finally stay, in shape.
The Food
In April 2014, Sarah set a goal weight of 164 pounds and launched into an eating plan consisting of whole foods. She used premeasured containers for portion control and also followed her morning workouts with a protein shake in place of her old carb-loaded breakfasts.
See some of the craziest things people have done to lose weight throughout history:
​
​
The Workouts
To start working toward her goal, she began doing 30-minute high-intensity interval training video workouts daily, squeezing them in before her daughter woke up in the morning.
Three months into her new routine, Sarah reached 200 pounds and went down a dress size. As her endurance built, she started supplementing her video workouts with mood-boosting evening walks and bike rides.
Four months later, Sarah hit 175 pounds and started incorporating bodyweight strength moves, like spider lunges and cross jacks, into her routine.
Just over a year after setting out to lose weight, Sarah surpassed her goal and hit 155 pounds. But after that, Sarah got stuck in a plateau for months. As a result, she started doing extra cardio and cutting way back on calories, which ultimately led to her metabolism slowing way down.
Sticking with It
After a few bingeing episodes, she decided to start working with a psychologist to find a more balanced way to eat and exercise.
Once she got into the swing of things, she switched to a weight-training program and reached 150 pounds. That's 15 pounds less than her original goal. (Start sweating towards your weight-loss goals with Women's Health's Look Better Naked DVD.)
To hold herself accountable and fuel her motivation, Sarah started sharing her journey on Facebook.
The Reward
At a size 8 and 145 pounds, Sarah is cut and lean, and proud to be a role model for her daughter. "I've broken the family cycle and written my own story," she says.