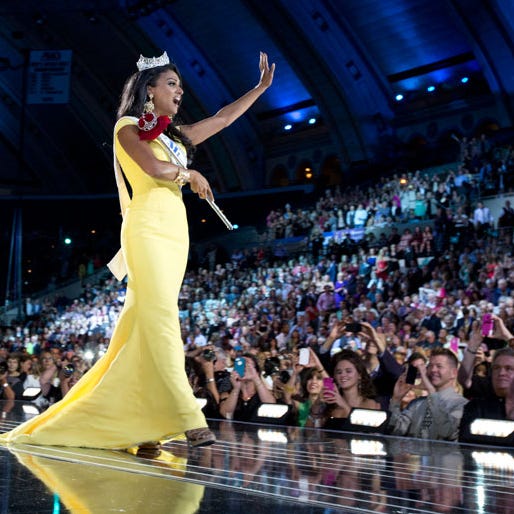 In high school, Nina Davuluri, now 24, was an active teenager, rooting for her school as a cheerleader, playing on the varsity tennis team, and dancing. But when she moved to college, Nina—who was studying brain behavior and cognitive science—worried more about her classes than her healthy habits. "I'd eat lots of chips, cookies, and candy while studying," says Nina. "And going to the gym is unheard of in my family." By the end of her senior year, Nina, 5'4", weighed 175 pounds.
The Change
During the summer between her junior and senior years of college, Nina was determined to slim down. She lost nearly 20 pounds—but the weight came right back when she returned to campus. After she graduated in 2011, Nina suffered from bulimia, which prompted her sister to speak up. "She could tell I was unhappy with myself," says Nina, "which really hurt her." It also hurt Nina to find out that her sister knew how bad she'd let her relationship with food become. It was the motivation Nina needed to take action.
The Lifestyle
At first, the gym intimidated Nina: "I was embarrassed to set foot in one because I hadn't worked out out in so long," she says. "I physically couldn't do certain things." So instead, she started doing intense 20-minute workouts from Jillian Michaels's 30 Day Shred DVD at home. She also ditched junk food and made sure to eat balanced meals.
After a month, Nina felt confident enough to hit the gym again. But instead of tackling the treadmill or elliptical, Nina and her mother signed up for aerobic classes: "Being surrounded by other people motivates me to push myself," says Nina. She also mixed up her workouts so that exercising would never be dull—she's tried everything from Barry's Bootcamp to bikram yoga, and lately, she's been obsessed with CrossFit. By June 2012, Nina had lost about 30 pounds. Working with a personal trainer, she lost an additional 20 pounds. Now, she's back to her high school weight.
The Reward
"Losing the weight was hard, but I'm more proud of how I've managed to maintain a healthy weight," says Nina. "My journey was more about being healthy than what was on the scale." She has more body confidence, feels stronger, and has way more energy than before. And she admits that seeing her shoulder muscles for the first time "was just awesome."
Nina's Tips
Switch up your exercises. "I've learned that once you get into a routine, working out isn't fun," says Nina. "Doing different activities makes it more exciting."
Don't let one unhealthy choice throw off your whole day. "If you fall off track and scarf down an unhealthy meal, that's fine," Nina says. "Eat better the next meal—not the next day."
Find a workout buddy. "It's more fun exercising with a friend, especially in group classes. Plus, it's easier to meet other people in those classes when you're with someone."
More from Women's Health:
The Habit That's Costing You THOUSANDS of Calories
Why Losing Weight WON'T Make You Happy
Can You Target Certain Body Parts for Weight Loss?