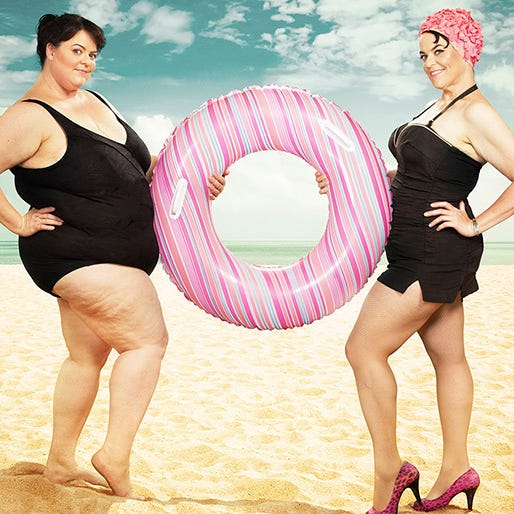 You've seen before-and-after photos before (probably on this site!). But this series from photographer Blake Morrow that features his friend (and fellow photographer) Beth Beard take the idea to a much more creative place: In each of the below pictures, Beth posed once pre-gastric bypass surgery and then again two years later, after she'd lost more than 150 pounds.
Beth approached Blake about shooting some photos, and Blake came up with the idea to make them pop culture-inspired. And although gastric bypass surgery helped Beth kickstart her weight loss, she told Yahoo Canada she's also overhauled her lifestyle to get healthier. "Beth is now a regular biker to work and is also in a roller derby team now," Blake wrote in an e-mail to WomensHealthMag.com. "Just goes to show that exercise doesn't have to be boring."
RELATED: 6 Women Share How They Got Back on Track After Gaining Weight
While Blake obviously used digital technology to create this series, which he's calling "The Beth Project," he is careful to point out that he never altered Beth's body. "I've lost weight, but I haven't lost who I am," Beth told Yahoo Canada. "It's just given me more opportunities to be more me, if that makes sense. There were things I'd always wanted to do and try but my weight had gotten in my way. Now, I feel like I have the freedom to pursue them more."
RELATED: How I Motivated Myself to Lose More Than 100 Pounds
"The Beth Project" is on display at the Vistek Toronto Gallery this month as part of the Scotiabank Contact Photography Festival, the world's largest photography event.