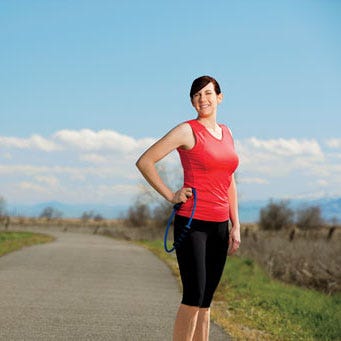 "I feel like I'm finally in charge of my life"
Before
175 lbs
After
132 lbs
When Mechelle Wingle married her college sweetheart in 1994, she weighed 140 pounds. But over the next 11 years, she had four children, and as a stay-at-home mom in Layton, Utah, she was never able to lose the baby weight. In 2006, after the birth of her last child, Mechelle peaked at 175 pounds.
"I'd eat 10 chocolate-chip cookies after dinner and hide a few for breakfast the next day," says Mechelle, now 36. "I felt that I deserved a treat for dealing with the pressure of raising four kids."
The Change
In January 2008, a blood test revealed Mechelle was prediabetic. Determined to dodge the disease, she began eating more veggies, cutting out sugary drinks, and not snacking after dinner. She dropped 15 pounds from her 5'8" frame by July, but it wasn't until her friend Jennie lost 30 pounds through diet and exercise that she kicked her weight loss into high gear. "When Jennie lost that much, I realized I could do it too," she says. On July 31, 2008, at 157 pounds, she wrote a pledge to push the scale below 150. "I hung it next to the bathroom mirror so I'd see it every day."
The Lifestyle
To cure her out-of-control emotional eating, Mechelle tracked what she ate in a food diary. She also bought an elliptical machine and started using it for 20 minutes a day, six days a week. As the weeks went by, she upped the resistance and added 15-minute strength-training sessions four times a week. By the end of August 2008, she weighed 149 pounds and decided to keep going. "I actually enjoyed working out," she says. By Christmas, she was down to 132 pounds. "I felt pure joy," she says. "I never thought I could be skinny."
The Reward
In addition to being able to slip into size-4 clothing, Mechelle now has enough energy to go for five-mile hikes with her husband and kids on a regular basis. "I used to feel as if I was being dragged by my life, but now I'm pulling it," she says. "I'm a new woman!"
Mechelle's Tips
Vegetate.
"I roast parsnips, sweet potatoes, and turnips with olive oil, salt, and pepper to make them taste good, then eat them as a side instead of chips or fries."
Step up your effort.
"I started at zero resistance on the elliptical--now I'm up to nine. That's a higher setting than my husband uses!"
Scale back.
"I weigh myself every Monday. If I do it more often, my progress seems slower."
Are you a weight loss winner? Tell us your story and you could be featured in the magazine! Read more weight loss success stories.