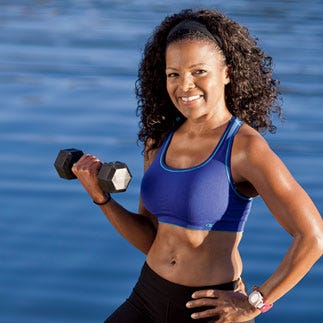 Tracey Dickson, 44
BEFORE 158 lbs AFTER 117 lbs
Although her job as a flight attendant forced her to eat out at least four nights a week, Tracey Z. Dickson, 44, of San Antonio, Texas, stayed trim by teaching cardio and boot camp classes and running about 20 miles a week. But in April 2008, Tracey discovered a cancerous lump in her breast. "My life hit a wall," she says. Chemo sapped her strength, while steroid pills left her ravenous, so Tracey ate—and ate. "I decided that because I was going through a sucky situation, I would eat whatever I wanted," she admits. In four months, the scale flashed up to 158. "I had never weighed that much," says Tracey, who stands 5'3". "I knew that couldn't be healthy on my petite frame."
THE CHANGE
In September 2008, Tracey's mom tried to motivate her to get off the couch. "She told me that my body was used to being active, so the best medicine was to stop lying around," says Tracey. "The person in the mirror looking back at me was not me, so I got moving."
THE LIFESTYLE
After a double mastectomy, Tracey was declared cancer-free in October 2008. One month later, she stepped onto a treadmill at the gym, where she built up to running for 30 to 60 minutes five days a week; she also strength trained twice a week. By March 2009, Tracey was down 20 pounds. Encouraged, she began training for 10-Ks and tossed all junk food. When she hit 128 pounds in June 2009, she decided to "become stronger and leaner after cancer than I was before it." After plateauing at 122 two months later, she added reps to her strength routine and was happy to reach 117 pounds in October. "I couldn't believe it!" she says. "I hadn't seen that number since high school!"
THE REWARD
Tracey is more active than ever, running about six 10-Ks and half marathons each year—double her pre-cancer mileage. "I am stronger than I ever imagined," she says. "I have all-day energy and believe I can do whatever I set my mind to."
TRACEY'S TIPS
Trick your sweet tooth.
"Instead of dessert, I'll have a baked sweet potato sprinkled with cinnamon. It tastes like I'm eating sweet-potato pie, but for a ton less calories."
Speak up.
"When you eat out, ask what the dishes are cooked in. It's your body; you should be able to decide what you put into it."
Make a workout date.
"You can't blow it off without feeling like you're letting down a friend, so you're more likely to stick to it."
Are you a weight loss winner? Tell us your story and you could be featured in the magazine! Read more weight loss success stories.