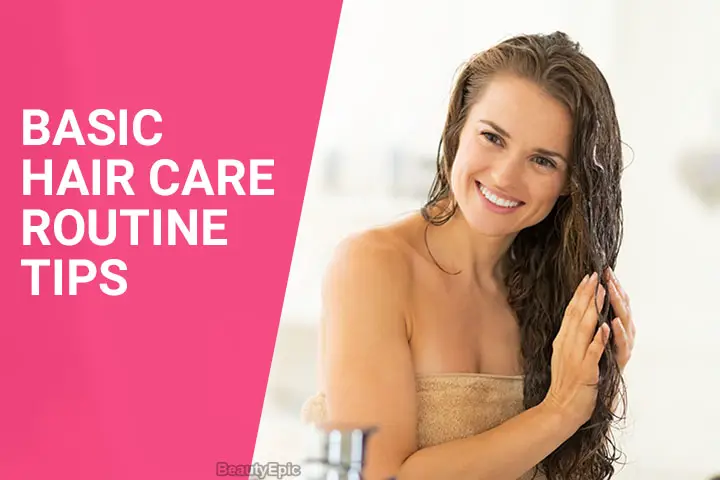 Keeping your hair manageable, smooth, and tamed is important. However, keeping it healthy is a top priority. So, whether you've got locked locks or a short bob, it has to be taken care of. From daily washing hacks to choosing hair care products to use, we've got you. This handy list will give you 15 sure-fire tips on how to keep your tresses beautiful and healthy at all times.
1. Use the Right Shampoo:
We know that shampooing is important as it helps get rid of dust and dirt build-up in your hair. But do you know what is more important? Yes, it is your choice of shampoo.
Take note that not all shampoos are created equally. Each shampoo is formulated for a specific hair or scalp need. Whether it is itchy, dry scalp, or dandruff, there is a specific shampoo that works for you. There are even shampoos that help keep the pH level balance in your hair.
2. Use Hair Conditioners:
Just like shampoo, hair conditioners also play an integral part in every hair care regimen. While shampoos work to clean the scalp and hair, hair conditioners help bring back the smoothness of the hair.
Shampoos and conditioners are partners-in-crime. They're like soap and lotion. Every time you shower, you wash your body with soap. When you're dry, you apply lotion on your body. As for your hair, shampoos and conditioners are the perfect duo. Shampoos work like soap and conditioners are the lotion. Without the other, your hair will look dry and dull.
When it comes to hair conditioners, you need not to purchase commercial ones. You can always make your own out of the materials you have at home. Perhaps you already have the ingredients that contain moisturizing capabilities, such as mayonnaise, olive oil, eggs, honey, and coconut oil. Believe it or not, onions also work!
3. Do not Forget to Moisturize:
Moisturizing the scalp and hair is also essential. Although our scalp is already capable of producing natural oils that produce moisture, we still need more moisture.
These days, there are lots of hair moisturizers out there to try, but we highly suggest you choose those that are paraben and sulfate-free. If possible, buy hair moisturizers that are made of natural ingredients. Other than hair moisturizers, there are other ingredients you can apply to provide added moisture to your hair. Natural oils are among them.
4. Consider Using Natural Oils:
Do you know that aside from the natural oils that your hair produces, there are other natural oils out there that you can safely apply to your tresses? That is correct. They can be mixed with water or your favorite conditioner to add moisture and nourish your strands and scalp.
Interestingly, natural oils serve a wide range of uses. While some can be ingested, others can be applied externally for health reasons. Below are some of the most popular natural oils today:
Jojoba Oil – It helps strengthen the strands by adding moisture to them.
Castor Oil – It promotes hair growth. So, if you are struggling with hair loss, massage this oil twice a day into your scalp. Do this regularly and over time, you should notice the difference. Aside from hair growth, castor oil also treats scalp infections, thanks to its anti-fungal properties.
Flaxseed Oil – It is packed with omega-3 fatty acids that help promote healthier hair and skin.
Vitamin E Oil – It works as an antioxidant, helping repair and build damaged tissues. It also helps repair damaged follicles, promoting healthier hair growth.
Carrot Oil – It helps promote new cell growth and moisturizes the scalp. It is also loaded with vitamins A and E, which are needed by your hair.
Black Seed Oil – It helps treat scalp conditions and reduces flakiness and sensitivity.
5. Trim Your Hair Regularly:
You really don't have to cut your hair short to keep it healthy. A nice and clean trim once in a while can make a huge difference.
According to hair care experts, it is best that you trim your hair at least once in every three months. By doing so, you can help reduce split ends that cause hair damage.
6. Steer Clear of Heat Styling Tools:
As much as possible, do not use heat styling tools like flat and curling irons. Too much heat can only damage your crowning glory.
If you need to style your hair to look presentable and neat, you still can. But just consider hair dryer diffusers or wear protective hairstyles.
7. Invest in Heat Protectants:
Do you really think that applying heat to your hair is necessary for styling? If so, then you might want to consider investing in a heat protectant as well. This product will help protect your hair against damage caused by heat styling. It is likely to reduce the effects of heat to hair to almost 50%.
Don't worry. These days, you can easily purchase heat protectants. While some are readily available in the grocery stores, others can be ordered online.
8. Wear Protective Hairstyles:
As the name suggests, protective hairstyles will protect, or at least, reduce the effects of hair-styling to the hair. These styles technically work by protecting your hair from any unnecessary pulling and promoting proper hair growth.
Nowadays, protective hairstyles are gaining popularity in the hair-styling industry. Some of the most popular protective hairstyles include the loose braids and twists. Wigs are also considered a protective hairstyle.
9. Color Your Hair the Right Way:
If you truly care for your hair, then you should know that hair coloring should be done the right way. Doing the otherwise can only cause damage to your locks.
Of course, your hairstylist already knows about this. And we are not suggesting that hair coloring products do not have any impact to healthy hair as long as they are applied correctly. What we want to tell you is that you need to have your hair conditioned before coloring. Also, it would be safe if you work with someone who is backed with years of experience in hair-styling.
If you prefer to do the hair coloring process yourself, here are a few things you should do to prevent damage:
Use a clarifying shampoo before coloring your hair.

Shampoo your hair only after two days from your hair coloring session.

Use shampoos that are formulated for color-treated hair.

Condition your colored hair.

Be sure to use high-quality hair color treatments.
10. Use the Right Hair Comb:
Like the use of shampoo, most of us don't really get specific when using hair combs or brushes. That is because we don't fully understand how crucial our choice of brushes and combs could be.
If you ever got the chance to look for combs recently, you've surely noticed that there are many different types of combs and brushes. There are those that are designed for wigs. There are also those that are made for curly hair. But regardless of your hair type, you should be able to find the hair comb or brush that suits you and help you achieve the results you want.
Basically, each hair comb or brush is made with a unique set of bristles that have different effects on the hair. While nylon bristles allow you to smoothly comb through your hair, the boar bristle types distribute the oils to create a soft texture that seems brushed out.
And whether you like it or not, your hair care regimen does not end with your hair comb choice. It only begins there. Every after you shampoo, you are not advised to comb through your wet hair. Why? That is because hair is more fragile when wet.
If you really have to comb, use a wide-tooth comb. You should be able to detangle your strands smoothly with it. It'll also help if you practice caution with the way you comb or brush. If you do it the wrong way, it may result in shedding. You don't want that to happen, right? Just be gentle and take all your time when brushing.
11. Check the Labels of the Hair Products you are Using:
We will do everything just to keep our hair healthy. While some of us make it a habit to visit the hair salon, others will use hair care products that promise them great results.
If you are among those who would rather buy hair care products and care for their hair at home, you should know that there are ingredients you have to avoid. Petroleum and mineral oils are among them.
So, why alcohol? Isopropyl alcohol can dissolve oil. If applied to your hair, it will cause excessive drying and will strip away all your hair's remaining moisture. Without moisture, your hair will be dull and frizzy. Most of the hair products that contain alcohol are volumizers, hair sprays, hair gels, and root lifters.
Next, why mineral oil? Mineral oil can only cause your pores to clog. If the pores are clogged, then your hair will be at risk for problems like dandruff and flakes. If you want to apply oil to your hair, it is best that you use natural oils like coconut oil. It can penetrate deeper into the scalp and work its magic from the shaft.
12. Consider Using a Hair Mask:
Just like the face, our hair needs a mask every now and then. This special hair mask works as a deep conditioning treatment for your hair. It will also help your tresses recover from the effects of heat, dryness, and weather. Moreover, it will help restore the true shine of your hair and rejuvenate your scalp with nutrients.
In case you are wondering where to get a hair mask, relax. It can be conveniently bought at a local beauty supply store. But if you want, you can create one from the products you have at home. Here are a few suggestions we compiled for you:
Avocado Hair Mask – It will make your hair shinier than ever.
Olive Oil and Egg Yolk Hair Mask – It will deep condition your strands and bring back lost moisture.
Olive Oil, Banana Smoothie, and Honey Hair Mask – It will protect your hair and keep split ends from forming.
Strawberry Hair Mask – It will give your locks the boost of Vitamin C they need.
Mustard Hair Mask – It helps protect the scalp from an infection.
13. Protect Your Hair When You Sleep:
When we sleep, we don't usually remember what we do. But what's clear is that we often rustle, roll, and toil. As a result, we wake up with such a messy hair.
The good news is that it only takes a few minutes to make a difference. Simply cover your hair with silk or satin cloth and you should not be worried about waking up with tangled tresses.
If you are still not convinced about protecting your hair before you sleep, we will give you more reasons:
Covering your hair with silk or satin caps can prevent the formation of tangles, which result in breakage and shedding.

Blemishes and pimples are often caused by hair that gets into your face while you sleep. So, when you cover your hair, you can keep the hair oils that get to your face from causing breakouts.

It is one of the best ways to keep your hair in place. Without a cap to wrap your hair, you will wake up in the morning with your strands all over your bed.

If you have just done an overnight hair treatment, then it is necessary that you cover your hair to help stimulate the effects of the treatment and seal the product into your scalp and hair follicles.
Aside from caps, there are lots of head wraps available at the local beauty supply shop. You can choose from scarves, bonnets, and silk caps. Among all options, silk-based wraps are the most popular because they do a pretty great job at retaining moisture.
14. Use a Silk Pillowcase:
Yes, you might need to sleep already, but that does not mean your hair care regimen ends there. You can still do something to keep your hair in good condition while you sleep.
Apart from wearing silk-based wraps, you can invest in silk pillowcases, too! They are generally hypoallergenic, so they can resist fungus, dust mites, and molds. Also, the natural characteristics of silk, such as its smooth and silky surface, help reduce friction that causes hair damage.
15. Do Your Homework:
You cannot care for your hair properly without research. You have to learn more about your hair type and how to take care of it to ensure you are on the right track. After all, not all hair care regimens work for you. Attend hair care workshops, ask your hair stylist for some hair care tips, or even research online.
Regardless if you have long or short hair, it is important that you care for it the right way. Lucky for you, we have already listed some of the best hair care tips above to ensure your locks stay healthy all day long. The healthier your hair, the more confident you will be!