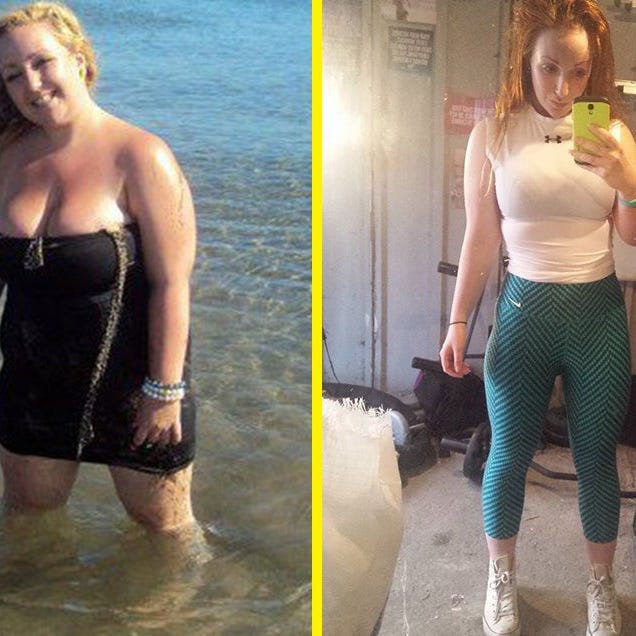 Trainers give good weight loss advice. So do magazines, diet blogs, nutritionists, and occasionally, celebrities. (Emphasis on the occasionally.) But if there's one thing we've realized this year, it's that the best tips, strategies, and motivation for weight loss comes from you—real women who've done the damn thing. As you get your 2017 goals in gear, check out what these ladies—who've lost anywhere from eight to 124 pounds—had to say about finally (finally!) shedding stubborn weight.
1. NEVER UNDERESTIMATE THE POWER OF WALKING IT OFF
"I worked out like crazy my whole life. Though it kept me in shape, it was really hard for me to get up and go to the gym to run on the treadmill every day. I didn't really enjoy exercise because it felt like something I had to do. So I decided to make walking my main form of exercise. It seemed to fit better into my daily routine than carving out time to get to the gym. I started walking for 90 minutes every day while listening to music or a podcast. In the three years since I started walking as exercise, I've lost 15 pounds." —Tracy, lost 15 pounds
(Start working towards your weight loss goals with Women's Health's Look Better Naked DVD.)
2. TAKE MORE SELFIES
"I got a gym membership at the constant nagging of my older sisters and best friend. On my first day, I did 60 minutes on the elliptical, and then I sent a picture to my best friend. I started taking a picture a day without really planning to. In my first photo, I didn't recognize myself, so I decided to take a picture every day until I saw a person I recognized. I soon began tracking my weight loss through the pictures, and it was a great way to keep motivated. Over the past 12 years, I'd counted calories and points, but nothing seemed to actually work and be maintainable. This time, I lost weight by swapping processed foods for lots of veggies, lean meats, like chicken and fish, and whole grains, like brown rice. I also made frozen, chocolate-covered banana bites to curb my sweet tooth! I never went to bed hungry. After six months, I lost 80 pounds. Just shy of the one-year mark, I was down to 189 pounds. I've still struggled with binge eating since then. But I've spent the remainder of this year focusing on eating a healthy balanced diet. I achieved all this by seeking out happiness, not constricting myself through the latest fads. My focus now is living a life of happiness, acceptance, and adventure." —Justine, lost 124 pounds.


3. MAKE STRENGTH THE END-GAME
"CrossFit is a great way to get in shape fast. I lost fat, I gained muscle, and watched my arms and quads get bigger as my waist shrank. But more importantly, the way I related to my body changed. I rarely hear CrossFitters talk about their goals in terms of appearance. It's about lifting more, squatting deeper, and moving faster. The focus is on what your body can do, not what it looks like. That was a huge shift for me. When I started CrossFit, food became fuel, not something to be scared of. While the number on the scale didn't budge much (muscle weighs a lot), I dropped two dress sizes." —Scarlett, lost two dress sizes
Check out these dumbbell moves that can help you lose weight:
​
​
4. THINK: HOW ARE MY CLOTHES FITTING?
"Scales bum me out. I go by how tight my clothes fit, and then I tailor my diet and exercise routine. When I feel like my clothes are tight, I drink fresh lemon water in the morning and throughout the day. Drinking a lot of water keeps my energy up and clears my mind.—Elisabeth, lost eight pounds
5. CUT OUT SNEAKY SOURCES OF SUGAR
"My weight kept creeping up until I was 202 pounds. As a registered nurse, I knew this was bad, but I just couldn't figure it out. It wasn't like I was eating a terrible diet. I decided to try eliminating excess sugars and starches from my diet. That's when I realized that I was sabotaging myself by starting every morning with a cup of yogurt for breakfast. That little cup had a whopping 29 grams of sugar in it. The American Heart Association recommends 25 grams of sugar an entire day, so by the time I had finished breakfast, I was already over the limit for good health and weight loss. Today, I am more aware of how much added sugars are in foods that are marketed as healthy. By switching my breakfast from a high-sugar yogurt to eggs and breakfast meats, I set my day up for success." —Mary, lost 53 pounds


6. THINK IN NUTRIENTS, NOT CALORIES
"Instead of counting calories, I think about the nutrients I'm gaining from food. There are many diet foods that are low in calories but high in sugar and additives. I concentrated on sticking to whole foods regardless of their calories and tried to avoid anything processed. I also practiced mindful eating by paying attention to hunger and satiety cues. Learning to eat intuitively took some adjusting, but each week it became easier, and I found my cravings for those high-sugar foods diminished." —Melinda, lost 10 pounds
7. MUNCH MINDFULLY
"It was hard to quit dieting. I yo-yo'd ever since I was 13. But I knew in order to have a healthy relationship with food, I had to quit! So when I learned about intuitive eating, I decided to give it a try. I learned to listen to my body and focus on differentiating physical hunger from emotional hunger. I worked to put an end to mindless eating by eating at the kitchen table, rather than in the car, in front of the TV, or with electronics in hand. Bonus: I truly taste and enjoy my food, which is something I rarely did before. Now, bags of chips and candy can last for weeks in my house." —Katrina, lost 80 pounds


8. GET SOCIAL ABOUT YOUR PROGRESS
"Whether it's a blog or a private diary, dedicate space and time to your progress. I created a Tumblr page when I decided to healthify my life, and it's been a community of support and encouragement. Take progress photos and post them instead of worrying about the scale!"—Rachael, lost 70 pounds
9. FOCUS ON CRUSHING SMALL GOALS
"When I first started working out, I realized how weak my core was and decided to start a plank challenge. I practiced planking every single day for a year. I could only hold my first plank for 20 seconds, but after a year I could plank for six minutes!"—Shawna, lost 113 pounds
10. FIND A MOTIVATING POSSEE
"Besides going to the gym, I started running with some women who were training for a marathon. I didn't want to at first, but I decided to give it a shot. I started running from one light pole to the next, and then I'd walk. I kept that up until I could run three or four miles without stopping. After I lost about 50 pounds and running became easier, I started thinking about running a half-marathon. Running with women who had a goal like me kept me going." —Alison, lost 63 pounds


11. MAKE EASY, PERMANENT CHANGES
"I lost weight so slowly that I didn't even notice until I easily slipped into a pair of pants that I hadn't been able to wear in two years. But I think that's made losing it and keeping it off doable. By making super-small changes, like increasing exercise, upping veggie intake, using the gym (instead of food) for stress relief, prepping meals, and not relying on take-out when I'm exhausted, I never felt like I was even trying to lose weight. I was just trying to make healthier decisions. Those choices became automatic and part of how I live my life." —Aleisha, lost 22 pounds
12. PACK ON THE PROTEIN
"The biggest change in my diet is that I'm eating way more protein than before. I'm a lean protein junkie. I'll have a burger from time to time, but that's a treat. I eat a lot of egg whites, white fish, ground turkey, and chicken, and tons of vegetables. For my carbs, I like to have a piece of whole-wheat bread, fiber crackers, or a half-cup of pasta. As a snack I'll have an apple or Greek yogurt with blueberries."—Tatiana B.
13. MAKE THE WEIGHT ROOM YOUR BFF
"The biggest mistake I made was not lifting weights. During the first six months of my fitness journey, I lost 20 pounds by eating less and doing cardio, but then I plateaued for years. I used the elliptical for an hour, five days a week, and I started running three to five days a week, up to eight miles at a time. I even started doing yoga and taking cycling classes. Sometimes I'd even do two classes back to back. But when I finally started lifting weights, specifically circuit training, and really pushed myself to go as heavy as I could, I lost another 15 pounds. I was blown away that my body could change. I mean, I really thought that I had tried it all." —Kyra, lost 35 pounds