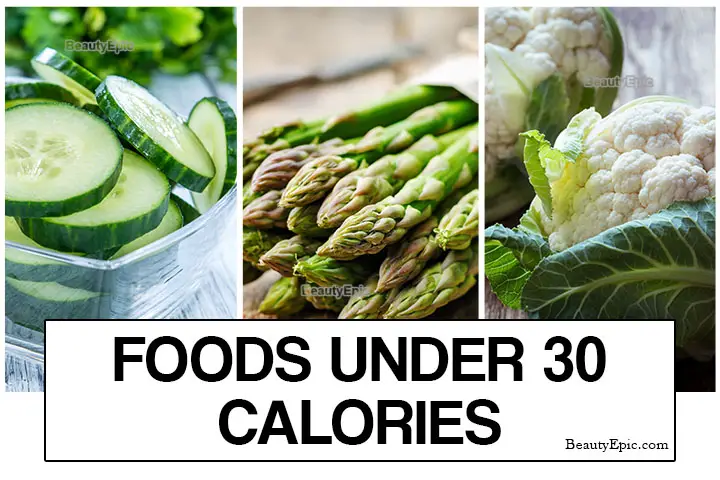 Snacking is tempting as it helps with midnight cravings or let you eat your favorite food anytime. But is it healthy? Ever wondered? The stomach feels empty and we just hop on that big cookie jar or the vending machine for a quick cup of coffee, right?
Wouldn't it be better if you look for some healthy snack that not only satisfy your hunger but also keeps the body in good shape? A better way of snacking is to zero down on a few foods having calories less than 30. Little calories and small snacks help regulation of blood sugar the entire day as opposed to bigger meals which are hard to digest.
If you want to cut down your calorie intake throughout the day, here are a few food items to consume. They contain fruits and veggies under 30 calories making them all a good option. So without much ado, let's check this list of low calorie foods.
Arugula Calories 25
Arugula has a peppery flavor and is a leafy dark green vegetable that is widely used. Basically, it is used in salads due to its health benefits for the body. Rich in vitamin K, folate, potassium, and calcium, this veggie must be consumed daily.
Arugula Calories – 25 Calories (per 100 g)
Asparagus Calories 20
Available in different colors like purple, white, and green, asparagus is a vegetable used in salads. It contains anthocyanins helping you fight with heart diseases. Since it is rich in folate and vitamin K, you can expect multiple skin and hair benefits.
Asparagus Calories – 20 Calories (per 100 g)
Bell peppers Calories 20
Bell peppers are available in various shapes, sizes, and colors among which red, green, and orange are most common. They are loaded with antioxidants thus protecting the body from bad toxins and damaging effects of oxidation.
Bell Peppers Calories – 20 Calories (per 100 g)
Cabbage Calories 25
Cabbage is used in salads and complete dishes as well. It has green or purple leaves and is considered as a healthy snack. If you are looking for evening munching or snacking, cabbage is a right choice.
Cabbage Calories – 25 Calories (per 100 g)
Cauliflower Calories 25
Cauliflower contains only 5 grams of carbs and is a perfect alternative for higher carb veggies. It comes in white, purple, yellow and orange heads and widely used in many countries.
Cauliflower Calories – 25 Calories (per 100 g)
Celery 16.01 Calories
Celery is a low calorie food with long green stalks that have high water content. The stalks contain insoluble fiber which is good for the body and because have no calories, it contributes a lot in keeping the body perfect. A cup of chopped celery contains just 16 calories.
Celery Calories – 16 Calories (per 100 g)
Cucumbers 15.54 Calories
Ahhh my favourite! Cucumbers are all water, you know? They are used in salads or drinks with a combination of fruits and herbs. Because they are water, they are low in calories.
Cucumbers Calories – 15 Calories (per 100 g)
Eggplant Calories 25
Eggplant is a very popular ingredient used in vegetables, pizzas, and a variety of cuisines. Due to this versatility, eggplant is commonly available round the globe. It comes in purple and white color which you can choose accordingly to your likes.
Eggplant Calories – 25 Calories (per 100 g)
Endive Calories 17
Endive contains vitamin E, phosphorus, magnesium, vitamin A, C, K, thiamine, folate, pantothenic acid, riboflavin, potaasium, iron, zinc, copper, and calcium etc.
Endive Calories – 17 Calories (per 100 g)
Lemons Calories 29
Lemons and lemon juice is quite a common kitchen ingredient. It is used to flavour salads, food, water, alcoholic drinks, and marinades etc. Not only does it add flavour, but also help prevent diseases due to the antioxidants present in it. Moreover, the zest of lemon is used in various recipes for added taste.
Lemon Calories – 29 Calories (per 100 g)
Lettuce Calories 15
Lettuce has high water content and widely used in salad dressings and top of sandwiches or burgers. Hardly will you find any burger without lettuce and since it is very low in calories, it is quite healthy. Moreover, it is rich in folate, vitamin A and K, the health benefits are worth appreciating.
Lettuce Calories – 15 Calories (per 100 g)
Mushrooms Calories 22
Mushrooms have sponge like texture and very healthy food item. Mushrooms are like vegetarian meat for vegetarian people, LOL. They are loaded with nutrients and just have 22 calories.
Mushrooms Calories – 22 Calories (per 100 g)
Pumpkin Calories 26
Pumpkin is nutritious having many health benefits as it contains manganese, carbs, vitamin A, C, copper, iron, vitamin E, B2, potassium, fiber, phosphorus, folate, and zinc etc. You can eat pumpkin seeds as they are edible.
Pumpkin Calories – 26 Calories (per 100 g)
Radishes 15.77 Calories
Radishes have a spicy taste and are root vegetables. You will find radish in white, dark pink or red color. Containing several beneficial nutrients, this veggie is good for health.
Radishes Calories – 15.77 Calories (per 100 g)
Spinach 23.18 Calories
Spinach is a green leafy vegetable packed with minerals and vitamins. The calorie level of this veggie is pretty less and you can consume it on daily basis. Rich in folate, vitamin A and K, spinach also contains proteins.
Spinach Calories – 23 Calories (per 100 g)
Tomatoes 17.69 Calories
Who doesn't know about tomatoes? It is the most popular and widely used veggie round the globe. You can eat it raw, cooked or use in the form of a puree. Moreover, there is tomato sauce or ketchup available made with tomatoes. Talking about the nutrition level, tomato contains lycopene that is highly nutritious. This compound helps combat cancer, heart disease, and inflammation.
Tomatoes Calories – 18 Calories (per 100 g)
Turnips Calories 28
Turnips are added to soups and stews and they have white roots. Turnips have a little bitter flesh containing a few beneficial nutrients. Eat raw turnips or make a luscious meal.
Turnips Calories – 28 Calories (per 100 g)
Watercress Calories 11
Watercress is used salads as it contains nutrients being a leafy vegetable. Being rich in vitamin K, C, and A, watercress has numerous skin benefits.
Watercress Calories – 11 Calories (per 100 g)
Zucchini Calories 17
Zucchini is a versatile addition to the meals and usually used in summers. It tastes sour and often used on pizzas, burgers, and sandwiches to add a touch of squash.
Zucchini Calories – 17 Calories (per 100 g)
Add these foods to your daily regime and see an outstanding change in your health. All these foods are less than 30 calories which when consumed give a nice boost to your overall wellbeing. While these foods are perfect to keep your body up and running, they also satisfy your hunger cravings.