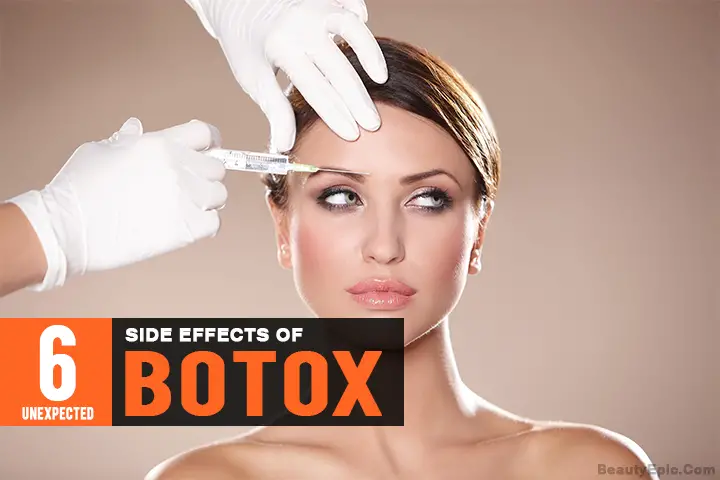 Botox are drug injections that are used for treatment of various muscular and cosmetic issues. It is also used to beautify ones face by removing wrinkles by temporarily paralyzing facial muscles.
Botox injections got there first approval from FDA on April 12, 2002 to be used as a temporary improvement for appearances (like to be used for facial muscles, for baldness etc.)But on the other hand it comes with some of the side effects that one should always go through before getting he or she treated. Have a look at the following side effects before considering getting Botox Injections.
6 Unexpected Side Effects of Botox:
1. Allergic Reactions:
Patients receiving Botox injections scan go through a series of allergic reactions if they and their doctor do not monitor the administration and quantity of drug or chemical used for the treatment. As our body is allergic to few chemicals or drugs, so one should actually find that out before starting with the treatment.
2. Irritation In The Eyes:
Eye is said and believed to be the most sensitive organ or part of our body. Patients who go for Botox treatment for betterment of their eyes may land up hurting their eyes.
According to studies it has been shown that people undergone Botox treatment suffered from swelling of the eye, double vision, blurred vision, eyelid dropping, Watery Eyes and in some cases it gets worse if untreated leading to permanent vision loss.
3. Muscle Weakness:
Administration of Botox for facial improvement often requires stopping or decreasing a muscle function. So as in long term usage or repetitive usage of Botox treatment leads in muscle to forget its voluntary action which leads in muscle weakness or paralysis.
Then in such cases patients have to undergo another treatment to rectify that cause. To make sure that this doesn't happen one should be very active to sense out their muscle activities and report their doctor about that so that necessary action scan be taken immediately.
4. Pain At Injection Spots:
On regularly being treated for some cosmetic betterment, it has been researched and proven that patients do suffer with pain and swelling on the treated area. As it is repeatedly injected from the same place several times so it may get bruised, swelled and red. In such cases the treatment should be temporarily called off to relax out that particular muscle.
5. Tissue Toxicity:
This is the least common side effect of the Botox treatment, but can happen to anyone. The surrounding tissues of the treated can get affected if patient is being treated with high dosage.
6. Flu Like Symptoms:
Some patients do complain of fever, chills, high temperature, runny nose or body aches after being treated with botox. Some also complain of stomach aches and indigestion. But these are few general side effects that is usually experienced by everyone undergoing Botox treatment. But do tell your doctor or pharmacist if it lasts longer.
Botox has been used safely and successfully for decades. It is the safe way to minimize signs of aging and enhance features. But if one encounters any of these side effects, they should visit a medical practitioner immediately.