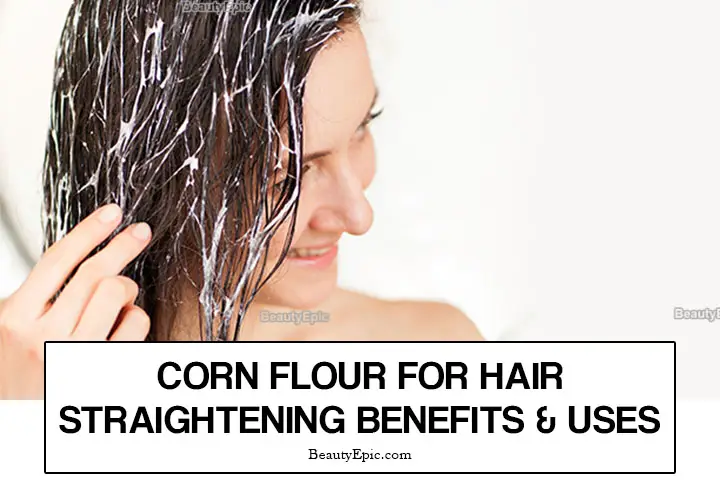 Girls who have curly hair tend to believe that heat and chemicals are required to straighten their hair. However, this is not true. There are ways to straighten your hair with natural ingredients. Obviously, it might not last long but if you want straight hair just for one occasion then natural treatments are the best. One such natural ingredient is corn flour.
Does Corn Flour Straighten Hair?
Corn starch is a commonly used ingredient in the kitchen. However, it has also been used in homemade and beauty recipes. The primary components of corn flour are zinc, magnesium, potassium, phosphorous, iron, and calcium. It also has antioxidants like Vitamin A, B, C, and E.
These provide it with the properties necessary to control the frizz of the hair and offer softness and shine. This flour is capable of strengthening your hair, too. However, you should know that it doesn't straighten hair completely. It controls curls and loosens the hair.
How to Use Corn Flour for Hair Straightening?
In case you have frizzy and fluffy hair, you can use cornstarch mask to smoothen it. It is going to leave your hair smooth, loose, soft, and bright. However, you need to keep in mind that it is not going to give the same effect as keratin treatment or ironing.
Coconut Milk and Corn Flour for Hair Straightening

Coconut milk has several health benefits. Apart from being good for the body, it is great for your hair. If you create a pack using corn flour and coconut milk, it will help you to straighten your hair.
Things Required:
Corn flour,

Coconut milk, and

lemon juice.
How to Do:
To prepare the mask of coconut and corn flour, you will have to take a saucepan and add olive oil and coconut milk.

Blend this till this forms a homogeneous mix. Take another bowl and add lemon juice and corn flour in it. Mix it well to form a paste. Make sure that there are no lumps in it. Keep mixing till the lumps dissolve.

Place the saucepan on medium heat and then add the mix of lemon juice and cornstarch. Stir it well to mix the ingredients.

Keep stirring till the mix thickens. Once it has the consistency of a hair conditioner, take it out. Allow it to cool down before applying it on your hair.
How to Apply:
Use a brush or your fingertip to apply the mask on the hair. Cover it from the roots to the tips. Now, cover the hair using a shower cap and then place a hot towel over it.

Let the mask sit for 2 hours to be absorbed. Thereafter, rinse it off with shampoo and conditioner. Once the hair is dry, it will be smoother and less frizzy. The longer you use the mask the better is the result.

You get an instant result with the corn flour mask and it will continue to stay long if you maintain it properly and use it from time to time.
Best Time to Apply: Before bath.
No of Repetitions: Use it twice in a week to get the best result.